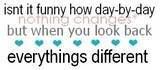 Dale explained who I am and how we met so I guess I'm good to just get started. I've been blogging for quite a while and enjoy the casual atmosphere of it. I will be using this more as a daily log of my activities related to Wealthy Affiliate as well as my day to day hum drum of a life. :)
Today was a productive day off line. With autumn beginning to take hold of us here, I had to take care of some yard stuff as well as get organizing our garage (we have become the infamous household that uses their garage as storage and not for a car).
Online I really did not accomplish near as much as I had wanted... But I have some days where I get much more done. I was working on updating one of my sites that provides us a lot of traffic. I think tomorrow my goal will to add adsense in better positioning on the same site and complete the updating. Right now there are some dead links and I know Dale is shuddering now. But it will only be for a few more hours.
For fear of my first post becoming a novel, I will leave it here.
Jodie