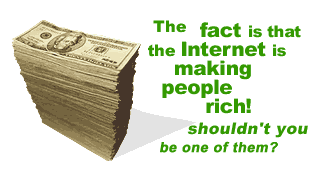 Well all around it was a crazy, hectic but productive weekend. Jodie and I both had offline issues to deal with but we still got a lot of work done. The
promo site
is going great guns and some nice earnings as a result. The Wealthy Affiliate site admittedly was a bit slow this weekend but thats ok, these things happen. It doesnt worry me at all.
Much of my time this weekend was spent on the new site Im building for my wife. Its a huge project but in the end will be great. You see Jackie (my wife) has joined our team so once this site goes live it will be huge. Shes been busy writing articles and preparing materials for the site. Best case scenario Im thinking of maybe an October 7th release but that may be pushing it a bit.
Well thats enough blabbing for now and time to get back to work.
If anyone is interested in talking about how we earn online and want
to get a bit personal about it then dont hesitate to add me to yahoo messanger
so we can have a chat.
You can add me by using stcajo2009
Dale
See my story about how I almost lost my family because of internet marketing below
See My Story Here